Scrum is an Agile methodology that is extremely effective in delivering complex software and new product development using an iterative and incremental approach. Scrum significantly increases productivity while also focusing on the quality of the product. The continual interactions between the Scrum team and the key stakeholders improve customer satisfaction and builds strong levels of trust across the organization.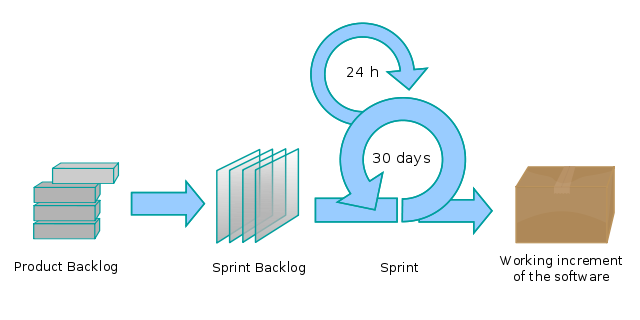 Scrum is an Agile process that allows us to focus on delivering the highest business value in the shortest time
It allows organizations to rapidly and repeatedly inspect actual working software
The business sets the priorities. Scrum teams self-organize to determine the best way to deliver the highest priority features
Every iteration anyone can see real working software and decide to release it as is or continue to enhance it for another sprint
Based on the size of your team and your commitment to adopting a better way to deliver projects, we offer Scrum coaching and training.
Getting started with Scrum
We're losing the relay race
"The… 'relay race' approach to product development…may conflict with the goals of maximum speed and flexibility. Instead a holistic or 'rugby' approach—where a team tries to go the distance as a unit, passing the ball back and forth—may better serve today's competitive requirements."
– Hirotaka Takeuchi and Ikujiro Nonaka, "The New New Product Development Game", Harvard Business Review, January 1986.
Whether you just read a book about Scrum or you are ready to try anything else than what you are currently doing, getting started with Scrum is very simple. It will be important to set the right level of expectation within your organization or team … the rewards of rolling out Scrum are great but the work to get there is also great. It absolutely starts with education, but depending on your readiness, it can be very fast to implement Scrum and see positive results in a short period of time. The key will be to keep learning and improving all along this transformation as this methodology focuses on continuous improvements.
Here are the typical steps we would take to implement scrum in your organization or team:
Meet with the key stakeholders responsible for choosing Scrum and assess their agile readiness
Get a high level understanding of the product(s)
Conduct an agile Scrum presentation with the key stakeholders and possible key players (product owners, scrum masters, team lead, etc …)
Identify product owner(s)
Start building the product backlog
Assemble the Scrum team
Start sprinting
To find out more about Scrum, simply read the official Scrum Guide online.